Non-slip tape in self-luminous "Glow In Dark" is a good choice for access roads where there is no outside light.
The tape is charged by the electric light, and calls for light in the event of a power failure so that you have the opportunity to find stairs, doors and the like.
--
Luminous non-slip tape makes your areas non-slip and increases visual marking both day and night!

Description:
Durable, high-quality tape.
Long-term luminous PVC net for fixing grain.
Self-adhesive back with removable cover paper to protect the glue.
Thickness of less than 1mm (without cover paper)
Pressure-activated high-performance acrylic adhesive.
Available in rolls or pre-cut sheets.
The luminescent color is almost white (with a green shimmer)
Available in fully colored luminescent and luminescent/black version.
Properties:

Luminance is 175% above the standard DIN67510.
55 mcd/m² after 10 minutes, 8 mcd/m² after 60 minutes.
Luminance total decreased after 16 hours.
Unsurpassed slip resistance in class R13 in relation to DIN51130
Quick, simple and easy to install.
Can be installed by anyone without prior training.
Can be used on all properly prepared surfaces.
Priming of concrete, cement and wooden surfaces is recommended.
Withstands approx. 1 million passengers.
Withstands being driven over by a forklift and similar.
Tear resistant
Tolerates most chemicals and mineral oil.
UV-Stable (however, placement in direct sunlight is not recommended)
Withstands temperatures between -20 up to +60 °C
Installation temperature from +12 °C
The substrate must be clean and dry before installation.
Can be walked on immediately after installation.
Withstands high load after 6-8 hours.
Maximum adhesion is achieved 72 hours after installation (depending on temperature and humidity)
Application:
For marking areas where it is difficult to find your way if the light suddenly disappears.
Prevents slip and fall accidents with associated costs.
For indoor use.
Used for passageways, passageways, paths, stairs, ramps, level differences, etc.
Can be used in kitchens, canteens and the like.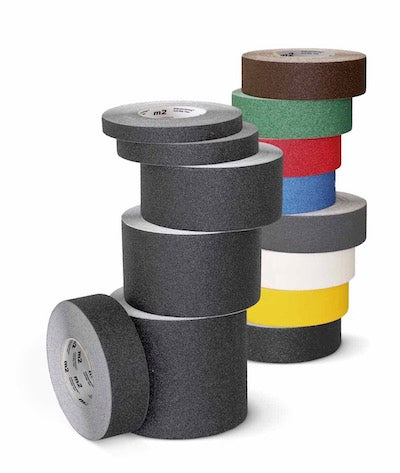 Non-slip tape in rolls from 19 to 1220mm
We have non-slip tape in rolls from 19 - 1220mm.

The rolls have a length of 18.3 metres.
The large sizes are not in stock, but they can usually be obtained within a short time.

The standard sizes in millimeters are:
19, 25, 50, 75, 100, 150, 305, 610, 914, 1220
In addition, the tape can also be obtained in special sizes.
Contact us to find out more about your options.
Non-slip tape in pre-cut sheets.
All our non-slip tape variants can be supplied in pre-cut sheets in 7 different standard sizes. If the desired variant is not on the page, contact us by email or telephone.
The 7 standard sizes are as follows: 25x800mm, 25x1000mm, 50x650mm, 50x800mm, 50x1000mm, 140x140mm, 150x610mm.
Non-slip tape cut according to your CAD drawing.
Do you have a special task that requires non-slip tape on special dimensions? We are ready to help you get your tape with exactly the measurements you need.

We can also help you prepare a CAD drawing.
Tape to special measurements can be produced from 1 pc.
Ved at foretag et valg vil siden reloade
Brug piletasterne samt mellemrumstasten for at befærde dig