Non-slip tape in rough version (Grain 24) suitable for places where you walk with dirty shoes, on ramps for horses/cows/pigs/sheep/etc, on agricultural machinery and the like. material
Our anti-slip anti-slip tape has an incredibly high quality, compared to many other variants on the market.
Grain size 24
Roll length: 18.3 Meters
Note that the roll width can vary approx. +/- 5mm.
(contact us if you need a more precise width, or special widths)
Areas of application:

Especially suitable for particularly dirty and/or busy areas
For indoor and outdoor areas
Workshop floors
Production areas and in Agriculture
Machinery and vehicles
Extra Strong - Coarse Non-Slip Tape for flat surfaces.
Particularly suitable for machines, garden tools etc.
Grain size: Grain 24
Properties:
Epoxy top coat
Grains fixed in PVC netting which prevents the grains from falling off the tape.
Self-adhesive backing with removable film (release liner)
Pressure sensitive high performance acrylic adhesive
Thickness of less than 2 mm (without release liner)
Available in rolls and pre-cut strips
Colour Black
Can be used indoors and outdoors on flat surfaces.
Can be used on virtually all flat surfaces.
We recommend the use of edge sealing in wetlands.
NOTE!: The glue on the tape is pressure-activated, it is recommended to install with a rubber roller so that the glue is activated and bubbles are avoided.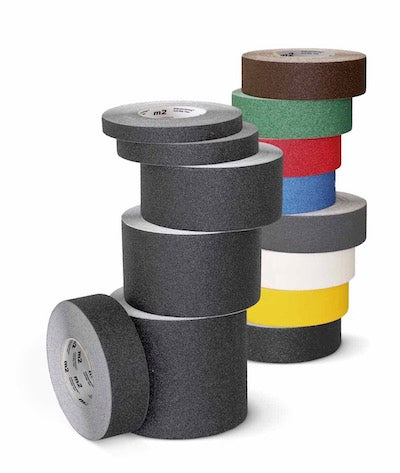 Non-slip tape in rolls from 19 to 1220mm
We have non-slip tape in rolls from 19 - 1220mm.

The rolls have a length of 18.3 metres.
The large sizes are not in stock, but they can usually be obtained within a short time.

The standard sizes in millimeters are:
19, 25, 50, 75, 100, 150, 305, 610, 914, 1220
In addition, the tape can also be obtained in special sizes.
Contact us to find out more about your options.
Non-slip tape in pre-cut sheets.
All our non-slip tape variants can be supplied in pre-cut sheets in 7 different standard sizes. If the desired variant is not on the page, contact us by email or telephone.
The 7 standard sizes are as follows: 25x800mm, 25x1000mm, 50x650mm, 50x800mm, 50x1000mm, 140x140mm, 150x610mm.
Non-slip tape cut according to your CAD drawing.
Do you have a special task that requires non-slip tape on special dimensions? We are ready to help you get your tape with exactly the measurements you need.

We can also help you prepare a CAD drawing.
Tape to special measurements can be produced from 1 pc.
Ved at foretag et valg vil siden reloade
Brug piletasterne samt mellemrumstasten for at befærde dig