Our anti-slip warning tape is good for places where you want to draw extra attention to level differences and at the same time want to increase friction to the surface. Can be used indoors and outdoors on flat surfaces. NOT suitable for grooved, wavy and uneven surfaces. We recommend the use of edge sealing in wetlands.
--
Our anti-slip tape - warning | Anti-Slip tape in respectively yellow/black, red/white available both in rolls and sheets.
Effectively helps prevent slips and falls as the tape also increases visual attention on the surface.
The tape is very good for industrial areas where it is important to create visual visibility in connection with danger areas, here you get extra safety in the form of a non-slip surface.

Description:
Grain 60
High quality
Durable
Non-slip surface with grains of aluminum oxide.
PVC net for fixing grain in the surface.
Self-adhesive backing with removable backing liner. (paper is removed before sticking)
Pressure-activated acrylic glue with high adhesion.
Thickness of less than 1mm (without backliner)
Available in rolls and sheets.
Colors: Black, Transparent, Blue, Green, Yellow, Grey, Red, Brown, White

Properties:
Warning colors yellow/black diagonal stripe - marks permanent dangers.
Warning colors red/white diagonal stripe - marks temporary dangers.
High slip resistance in class R13 according to DIN 51130.
Quick and easy to install.
Can be used on almost any properly prepared surface.
Priming is recommended on concrete, cement, wood and porous surfaces.
High wear resistance (approx. 1 million passengers)
Withstands moderate traffic with forklifts and the like.
Tolerates most chemicals, as well as mineral oil.
UV stable.
Withstands use in the following temperatures -20 up to +60 °C
Installation temperature from +12 °C
The substrate must be dry and clean during installation.
The tape must be walked on immediately after installation.
Withstands load 6-8 hours after installation.
Maximum load is achieved after 72 hours. (Depending on temperature and humidity.)
Suitable for:
Permanent or temporary marking of danger zones.
Prevention of slip and fall accidents – with associated costs.
Increases safety on smooth, wet surfaces and surfaces covered with dirt and oil.
For indoor and outdoor use.
For low, medium and heavy traffic.
Entrances, passages and paths.
Stairs, ramps and ramps
On machines and vehicles
Kitchens and canteens
Ideal for non-slip floor marking in workshops, productions, warehouses etc.
With this product, a non-slip surface and visual visibility are achieved in the same product.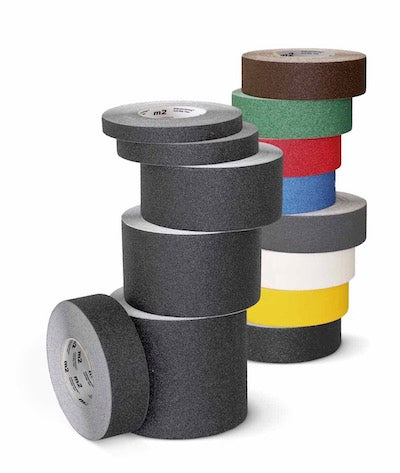 Non-slip tape in rolls from 19 to 1220mm
We have non-slip tape in rolls from 19 - 1220mm.

The rolls have a length of 18.3 metres.
The large sizes are not in stock, but they can usually be obtained within a short time.

The standard sizes in millimeters are:
19, 25, 50, 75, 100, 150, 305, 610, 914, 1220
In addition, the tape can also be obtained in special sizes.
Contact us to find out more about your options.
Non-slip tape in pre-cut sheets.
All our non-slip tape variants can be supplied in pre-cut sheets in 7 different standard sizes. If the desired variant is not on the page, contact us by email or telephone.
The 7 standard sizes are as follows: 25x800mm, 25x1000mm, 50x650mm, 50x800mm, 50x1000mm, 140x140mm, 150x610mm.
Non-slip tape cut according to your CAD drawing.
Do you have a special task that requires non-slip tape on special dimensions? We are ready to help you get your tape with exactly the measurements you need.

We can also help you prepare a CAD drawing.
Tape to special measurements can be produced from 1 pc.
Ved at foretag et valg vil siden reloade
Brug piletasterne samt mellemrumstasten for at befærde dig