This tape is perfect for use where there are many people.
The tape is very dirt-resistant, and small impurities are not visible on the surface.
Suitable for use in buses, trains, ferries, shops and similar places with a lot of traffic.
Grain size: Grain 46
Properties:
PVC based netting for grain
Pressure-sensitive high-performance acrylic adhesive with removable film (release liner)
Low thickness of less than 1 mm (without release liner)
Available in rolls and pre-cut strips
Dirt resistant - maintains appearance for a long time
Long-term warning marking with high effect
Multi-colored grain particles (to maintain appearance)
Colour: yellow
Can be used indoors and outdoors on flat surfaces.
NOT suitable for grooved, wavy and uneven surfaces.
We recommend the use of edge sealing in wetlands.
NOTE!: The glue on the tape is pressure-activated, it is recommended to install with a rubber roller so that the glue is activated and bubbles are avoided.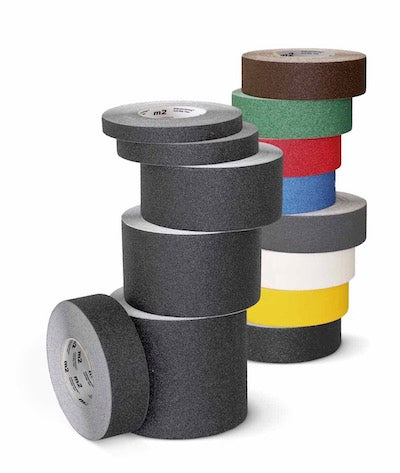 Non-slip tape in rolls from 19 to 1220mm
We have non-slip tape in rolls from 19 - 1220mm.

The rolls have a length of 18.3 metres.
The large sizes are not in stock, but they can usually be obtained within a short time.

The standard sizes in millimeters are:
19, 25, 50, 75, 100, 150, 305, 610, 914, 1220
In addition, the tape can also be obtained in special sizes.
Contact us to find out more about your options.
Non-slip tape in pre-cut sheets.
All our non-slip tape variants can be supplied in pre-cut sheets in 7 different standard sizes. If the desired variant is not on the page, contact us by email or telephone.
The 7 standard sizes are as follows: 25x800mm, 25x1000mm, 50x650mm, 50x800mm, 50x1000mm, 140x140mm, 150x610mm.
Non-slip tape cut according to your CAD drawing.
Do you have a special task that requires non-slip tape on special dimensions? We are ready to help you get your tape with exactly the measurements you need.

We can also help you prepare a CAD drawing.
Tape to special measurements can be produced from 1 pc.
Ved at foretag et valg vil siden reloade
Brug piletasterne samt mellemrumstasten for at befærde dig